Service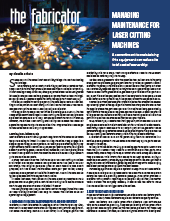 Read more about Managing Maintenance for your Laser Cutting Machines in this article recently published in The Fabricator. The author of this article is Richardson's Vice President and General Manager, Industrial Services - Claudio Schutz.
---
Richardson Electronics has a network of technical specialists available to support your TRUMPF® equipment wherever you are in the world. Our fully trained service engineers are a viable option to become your competent partner to service your TRUMPF® machine, with the peace of mind that a team of professional engineers, available over the phone or on site, will assist you every step of the way.
NEW!! We are now offering driver stage repair and exchange for industrial CO2 laser systems.
Through our global service network, Richardson Electronics now offers remanufactured driver stages that are used in Trumpf® CO2 lasers. Each unit undergoes a thorough 38-point inspection process and is tested and burned in for 24 hours before delivery. Learn more.
We understand your uptime requirements, strive to provide excellent customer service and will offer you the highest quality components that you and your TRUMPF® laser deserve – all at competitive prices.
The bottom line: Richardson Electronics Service can help you reduce what it costs to own and maintain your TRUMPF® laser.
Contact us for more details: edg@rell.com