Advanced Quality Laser Parts
TRUMPF® and Bystronic® laser parts and CO2 laser consumables are premium quality replacement laser components that provide the same quality service and results as the OEM. Power grid tubes and other laser consumables for TRUMPF® and Bystronic® allow your laser machine to perform up to the highest standards at more cost-effective prices than the OEMs.

Richardson Electronics is your number one source for TRUMPF® spare parts, and Bystronic® spare parts, including power grid tubes and laser consumables. In addition, we can provide replacement components, spare parts and consumables for other industrial laser systems from other major manufacturers. Learn more about our CO2 laser consumables product portfolio.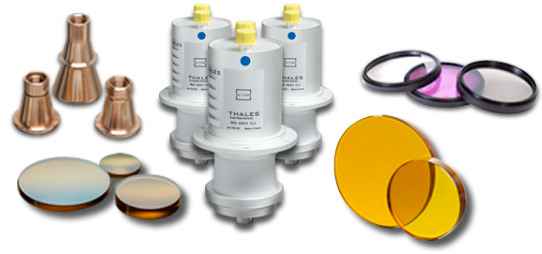 TRUMPF® Laser Parts
TRUMPF® laser parts and various other types of TRUMPF® CO2 laser consumables are manufactured as exact replacement parts for the OEM original. Whether it is original THALES power grid tubes, laser consumables or replacement laser components, Richardson Electronics carries laser replacement parts at a fraction of the cost of the originals. Our TRUMPF® laser part options include the following parts:
Bystronic® Laser Parts
Advanced quality Bystronic® laser parts and consumables are available as a cost-effective alternative to direct OEM parts. Bystronic® replacement laser components offer highest part performance and reliability excellence compatible with the original OEM, at a fraction of the cost. Richardson Electronics carries the following Brystronic laser parts: